19,998, 19,999, 20,000! And Breathe… Whilst you've been basking in Britain's glorious weather, BBQing it up and chanting "football's coming home!" (probably), we've been busy feeding a whopping 20,000 mouths at The PGA European Tour.
We've travelled across four countries, bringing perfection to every plate. Now that Fayre Do's have officially "come home", we wanted to give you a flavour of how we pulled it off.
Phase 1: Wentworth, 23rd - 27th May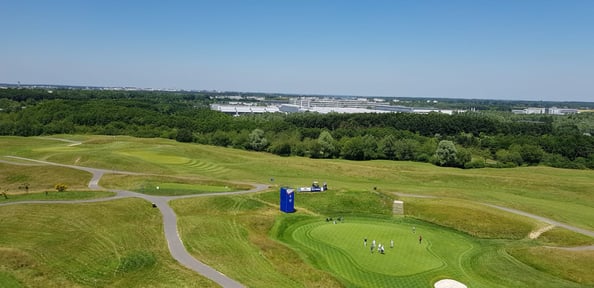 It all tee'd off back on 23rd May, just one week before The World Cup kicked off. Wentworth was the first location on the calendar. Any golfing enthusiast will know that Wentworth is the Crème de la Crème when it comes to golf courses in the UK. Located just a stone's throw away from Windsor Castle, another stomping ground Fayre Do's are familiar with - cough-cough "Royal Wedding", Wentworth would see six of Fayre Do's fabulous staff serve 310 crew for lunch each day.
Phase 2: Italian Open, 27th May - 3rd June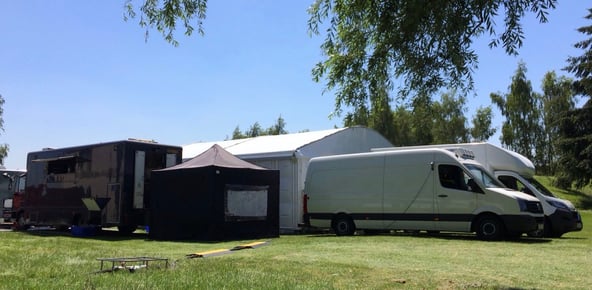 Once the crews at Wentworth had eaten more club-sandwiches than you could shake a stick at, it was time to move on to Italy where the next phase of The European Tour would commence. Five Fayre Do's staff embarked on the voyage, taking a ferry and then a flights before finally arriving at the beautiful Gardagolf CC, Brescia in Italy.
Despite being home to some of the finest food in the world, the Italians are never disappointed to see Fayre Do's rock up. On the menu, some of our usual catering classics, including home-baked sausage rolls, beef lasagne and Mumma Mia..! We couldn't miss the opportunity to offer something for the locals too; portobello mushrooms and mozzarella topped with the finest prosciutto ham. Delizioso!
Phase 3: Paris, 27

th

June - 1

st

July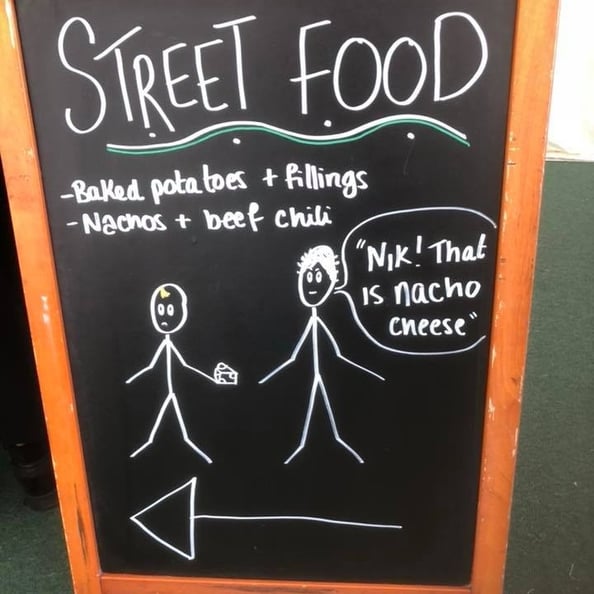 Paris marked the half-way point. By now, the love coming out of the kitchen was just as strong as it was at the beginning, but the team were starting to find new ways of occupying themselves... Feeding 208 crew for lunch each day takes a level of commitment, planning and dedication that defies imagination. So we inject a little fun into our service even if that means getting up to no gouda from time to time. The French take their cheeses very seriously, as you can see, so do we…
Phase 4: Scotland, 9th July - 15th July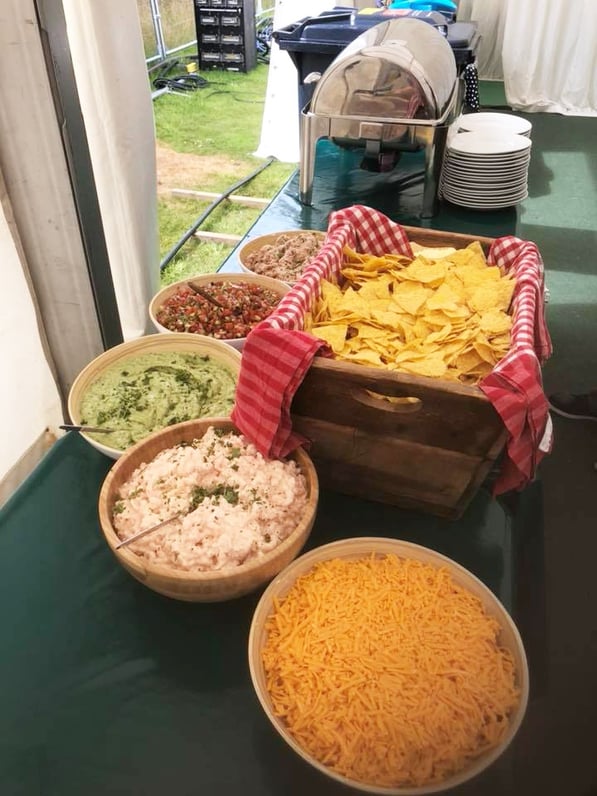 Haggis, black pudding and omelettes was the vibe at breakfast for the majority of Bravehearts. But by mid-afternoon, the guac had to make an appearance. At Fayre Do's, we ensure that the crews always have irresistible nibbles to chow down on throughout the day. With that philosophy at the the heart of everything we do, avocado is always in vast supplies. After all, when the golf starts it's par-tee time!
Phase 5: The Open Carnoustie, 11

th

- 23

rd

July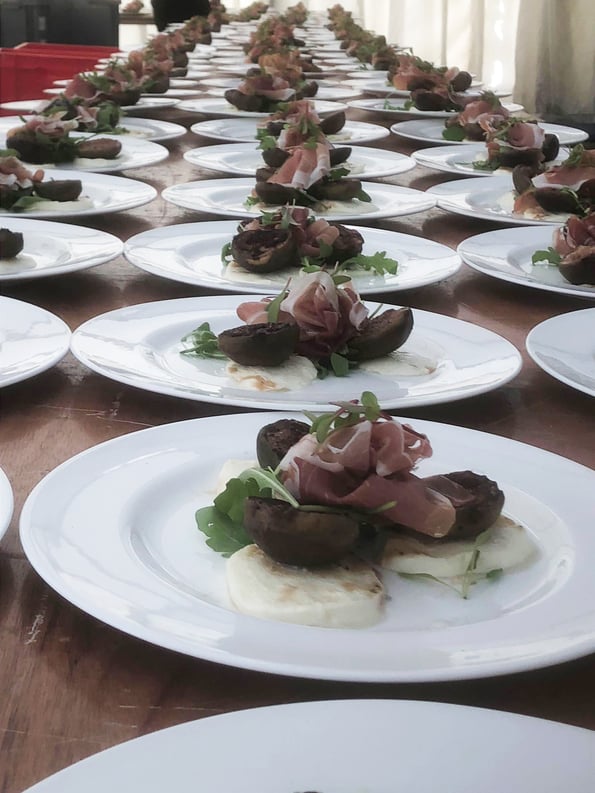 This was the biggy. The World Cup Final of catering events, which coincidentally, occurred at the same time as the actual World Cup Final. If you think our journey had been impressive so far, it had barely begun. This mammoth undertaking saw Fayre Do's feed between 300-800 crew each day! Breakfast, lunch, dinner and packed lunches too!!
30 incredible Fayre Do's staff made the operation run as slick as you like. Working 24 hours a day in shifts, taking it in turns to serve between 3.30am and 9:30pm, whilst other crews worked tirelessly through the night preparing for the next days service. This feet of epic endurance is testament to our wonderful team who always pull together to ensure the highest quality of service, time and time again.
The level of organisation that goes into feeding 20,000 mouths over the course of 10 days is not for the faint-hearted. One eighteen tonne forty foot kitchen, one seven and half tonne thirty foot kitchen, a seven and half tonne eight foot kitchen, a whopping fridge container, two hefty refrigerator vans, two luton vans, two hire cars, one camper van and accommodation for all the staff! Not to mention all the food ingredients and logistical arrangements.
One question we heard more and more as the event progressed was, "We don't know how you do it?!". Our answer...? "Commitment, dedication and a whole lotta love!"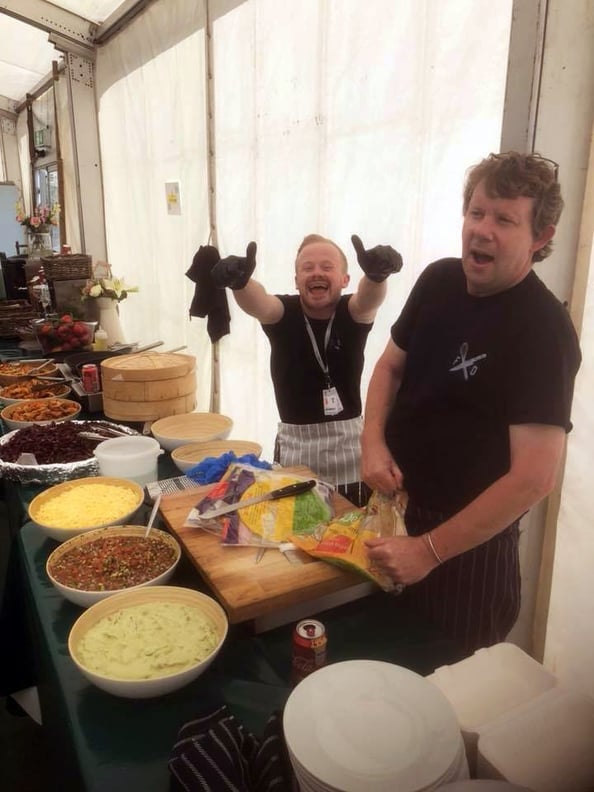 That's a wrap!
Got a the urge for a club-sandwich! Book your next production catering with Fayre Do's.