This year's London Marathon was officially the hottest on record! More than 40,000 runners took part amid temperatures of 24.1C (75.3F), which were recorded in St James's Park, the Met Office said. Runners were warned it could be even hotter on the course because of the heat absorbed by the roads and from other competitors. It truly was a scorcher!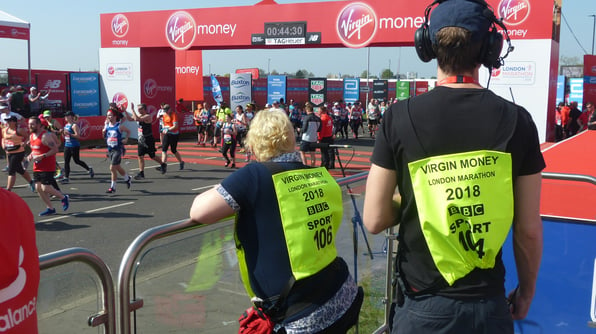 Things were hotting up off-track too! As the Queen made her speech, Head Chef, Jamie Cook, Executive Chef, Paul Newbury, and the rest of the team, prepared the morning breakfast. Full English or omelette? That was the vibe of the day. Tucking into a delicious assortment of sausage, bacon and eggs whilst listening to the Queen make her speech. What good be more British, hey?
If you're wondering who that star is at the helm of the spatula. It's Nik! Nik did a fantastic job cooking up a storm with the omelettes. His secret? "You've gotta crack a few eggs to make an omelette." At one point, Nik was asked how many omelettes he had made that day. 34 he replied. After that, things got a little hazy and he started to lose count.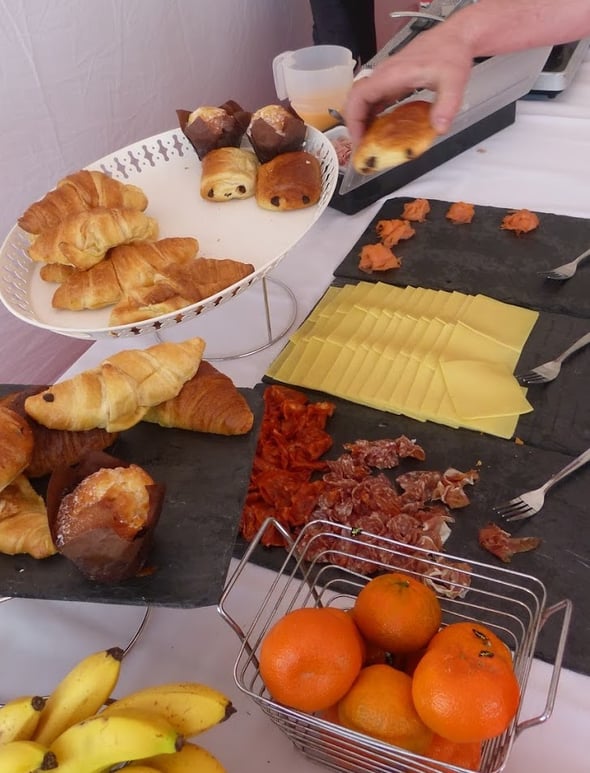 Of course, that wasn't the only choice on our menu. When Fayre Do's are in town, you know you're going to have a range of delicious treats to feast your eyes on. Croissants, cereals, fresh fruits, a selection of ham, cheese and bread. Lucozade, for those who needed to "find their flow". Tea and coffee, for the brave... And water, LOTS OF WATER!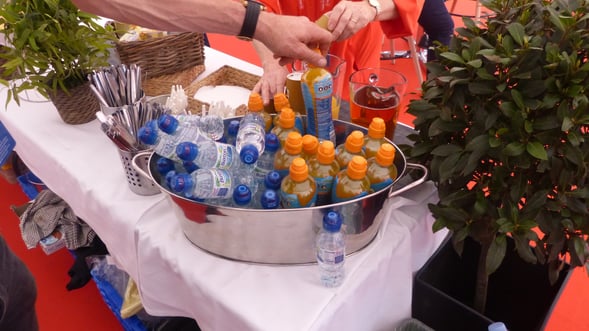 At one point, the fire brigade showed up! Were they running? Were they sponsoring someone? Were they there to stop everyone burning from the sun?! Who knows... But it was reassuring to say the least.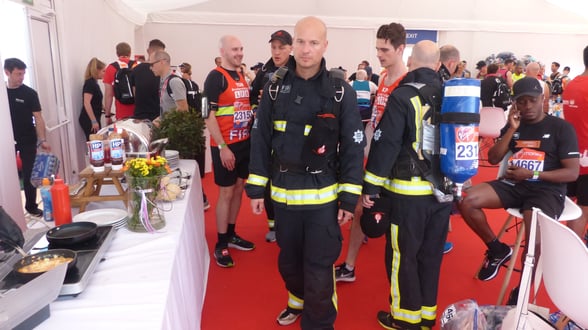 They say an army marches on its stomach. Luckily, we weren't short of any food for the Queen's Guards. Some say they speak only in trumpet. We can confirm this is in fact true…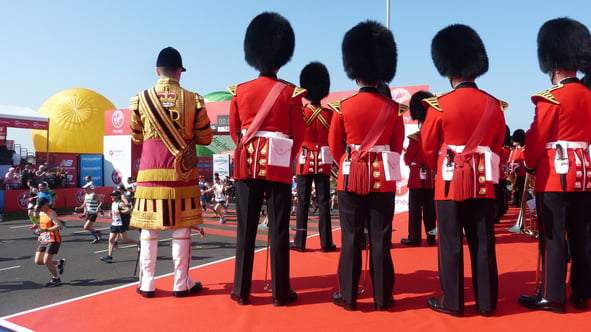 Seeing all the amazing charities everyone was supporting was truly inspirational. Yes it's impressive when someone gets around the entire 26.2 mile course dressed up as a pint of London Pride. Those who truly make a difference to the world and to peoples lives deserve another whole level of respect. The event was a pure celebration of human awesomeness.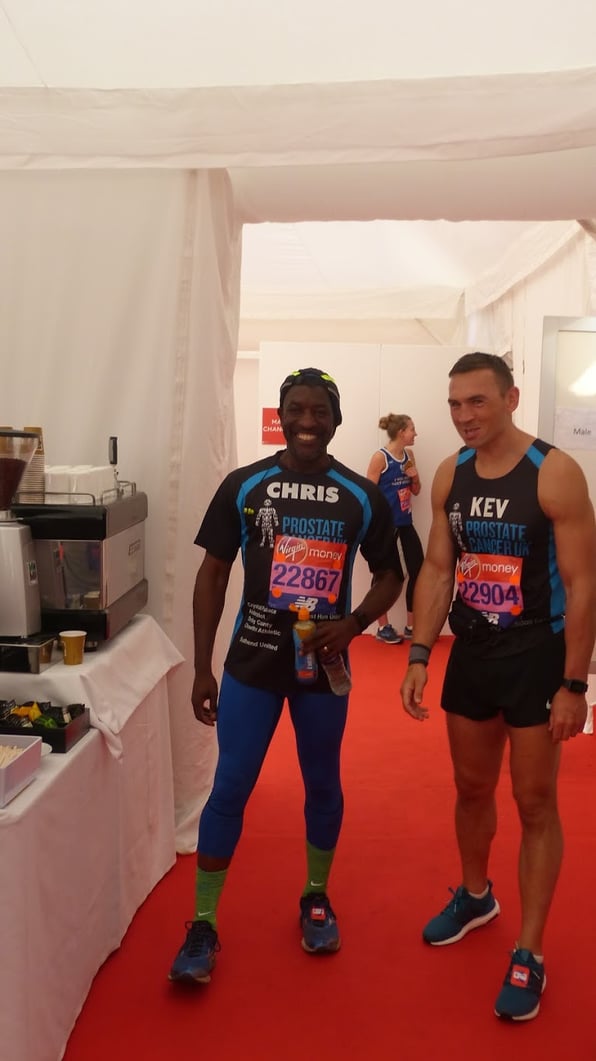 Lest we forget the film crew who did an amazing job battling the soaring temperatures to keep everything running smoothly! They too are champs in our books. The runners looked a little confused at the end of the day when they found out they weren't actually competing though. ha-ha-ha...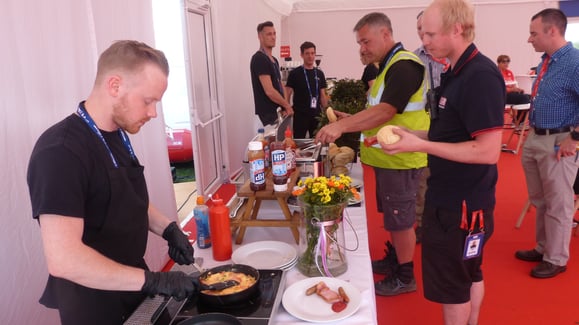 Once the last competitor went across the finish line everything came down quicker than you could say, "ready, set, go!". The grandstand began to disassemble so the road could re-open. But not before we got a team photo!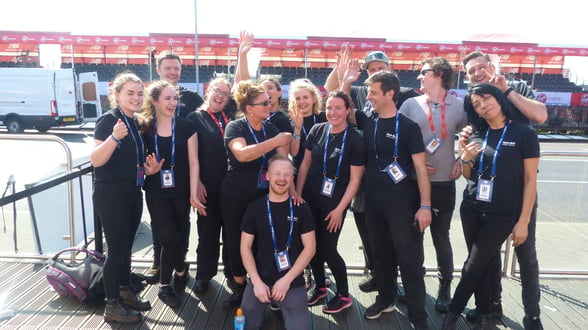 An event of this scale requires heaps of planning. The efficient "running" of the event (pun intended!) is a testament to the organisation and skill of everyone involved in making this truly inspirational event take place.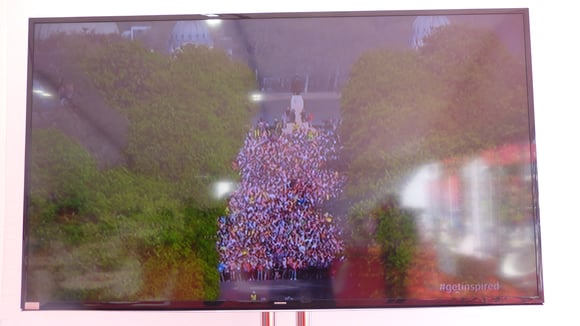 What does it take to be a champion? Desire, dedication, determination, concentration and of course a little fuelling from Fayre Do's.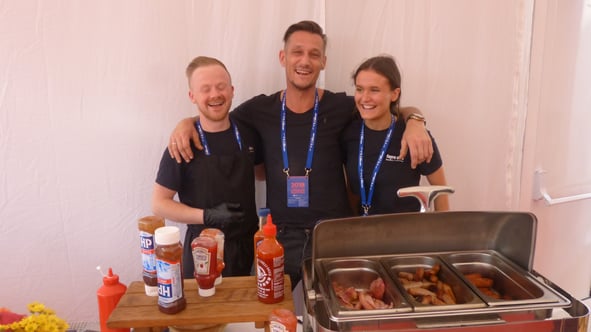 Well done everyone! That's a wrap!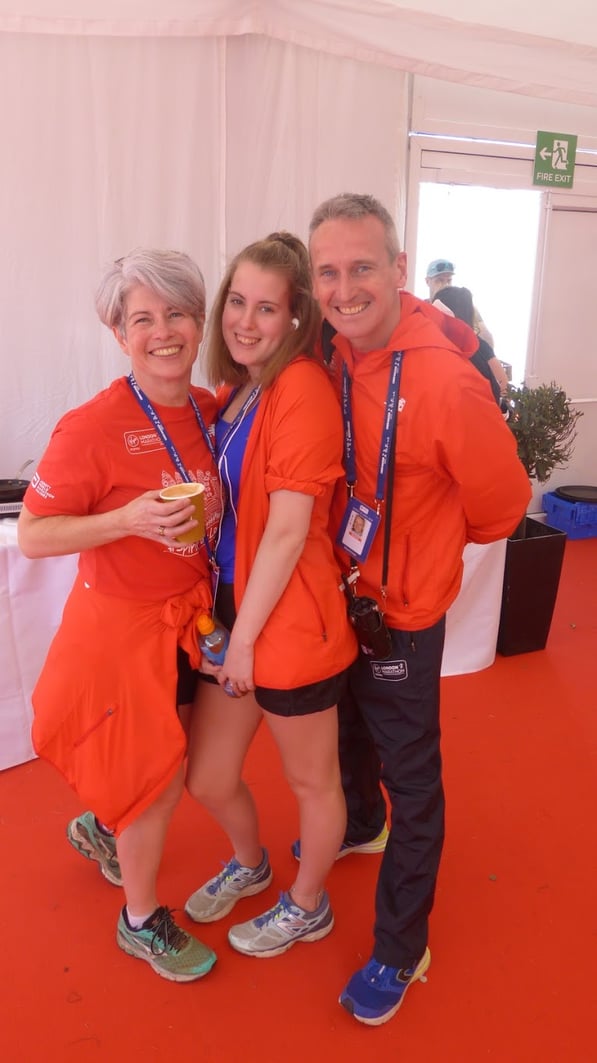 Got a champion appetite? Book your next production catering with Fayre Do's.